3 X World Record Holders!
We did it.
Thanks to all of our supporters, sponsors, familiy and frends for believing in us. You are all amazing.
Iain Rooney - Cart 200Kg Limited Open Wheel Canopy -
113.20kmh 70.33mph
Paul Janson - Unlimited Speed Bike NF (Non faired) -
114.77kmh 71.31mph
Paul Janson - Unlimited Speed Bike F (faired) -
114.28kmh 71.01mph
Paul on the un-faired G-bike
 Iain in the gravity car
Team Rooket's next challenge -
A big hill and a chance to make an attempt at a World Gravity Speed Association record.
Our new vehicles are complete and as have now arrived in Canada, waiting for us!
We are also raising funds for a very deserving charity
Cash for Kids - West Sound.
Sign up for £10 and get your name on the cart and a minimum £5 will be donated
to Cash for Kids West Sound.
We are also on Facebook - https://www.facebook.com/gravityracers/
https://www.facebook.com/pg/gravityracers/posts/?ref=page_internal
Iain with the cart and Paul with the bike, at the Dalby Forest Soapbox Derby 2014.
Iain picked up third place in the cart and Paul got second place on the bike. 
 Waiting to start, at a very wet Brechin, Halloween in the City, cartie event.
Away we go.... 
..and heading to the finish line to post the fastest time of the day. 
At Border Bogies 2013  
On display at Dean Castle car show, Kilmarnock.
People liked the "halloween" livery so much it is now going to be on the cart for 2013.
Strapped in and ready to go at Border Bogies 2012 
At Cairngorn Soapbox Extreme 2011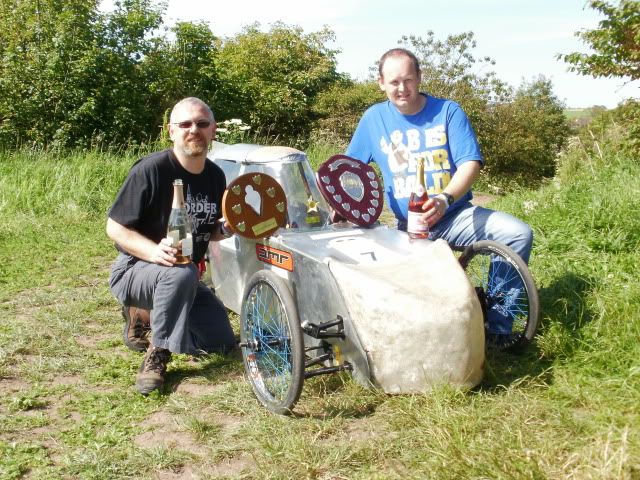 At Border Bogies collecting our 2nd place trophy (above left) and collecting our haul of trophies at Catterline Carties (above right).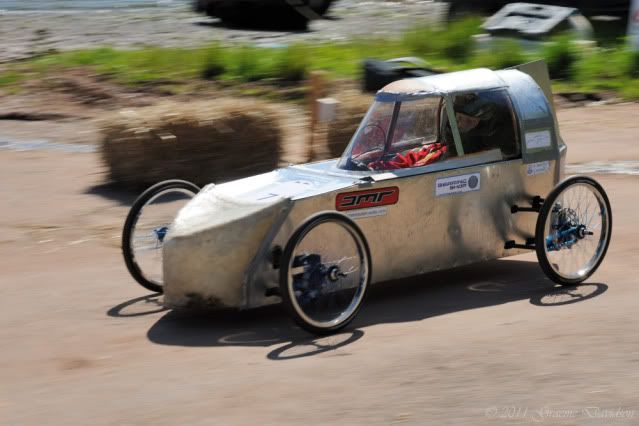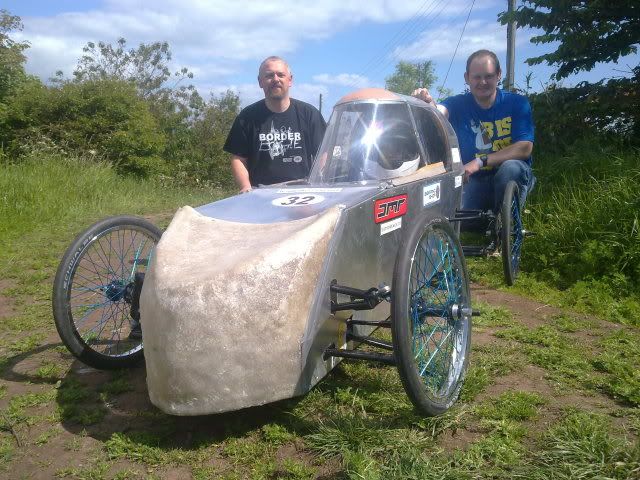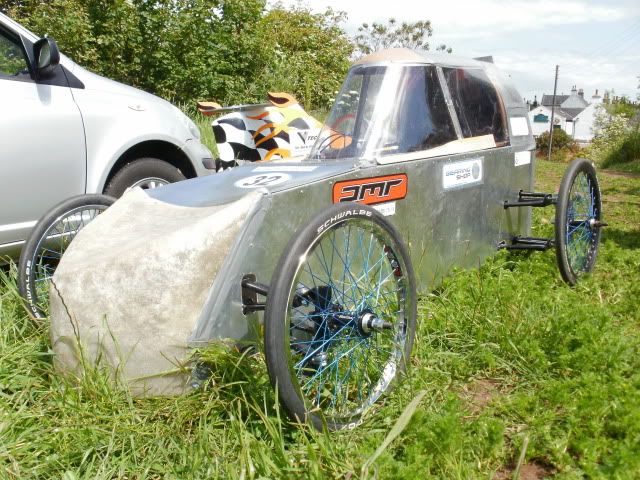 And Naecost 1.6 at Cairngorm Soapbox Extreme 2010 (now sold- below)   
Welcome to the home of Team Rooket and "Naecost" gravity racer
Team Rooket are Paul Janson (right) and Iain Rooney (left), who came to know each other through kit cars and wanted to do something a little bit different, to satisfy our adrenaline requirements.
So what is a gravity racer?
A gravity racer is a self propelled vehicle (usually 4 wheels) and is an evolution of the bogies we built as kids. Gone are the pram wheels, the nailed on axles, the rope and plank steering and feet on the ground brakes. These have now been replaced by more substantial and sophisticated hardware, capable of coping with the higher speeds and bigger people.
Also known as bogies, carties, guidies, soapbox racer, etc.
Why gravity racing?
Its available to most, to be successful you don't require mega budgets or to be super fit and the buzz you get from going 40 - 60+mph without an engine is awesome. It's also a developing sport, so there are no definitive rules which will get you success allowing some creative licence, within the rules of an event.
There are a number of meeting throughout the year and the UK, catering for the novelty carts or for the purpose built racing carts, which tackle the countries more demanding courses.
For more information please see our links page, where there are links to associations, forums, events and other teams.
Hopefully we can give others a taste for the sport and get more people involved.
Why "rooket" and "naecost"?
Rooked or rook't is a Scottish colloquialism for skint or short of cash, includes part on Iain's name and is probably as close to a rocket that we will ever get to. And as the first incarnation actually had no money spent on it - it truly was "naecost"!